31 July 2014- Dakar/NDjamena: Launch of the online interactive forum on the African Extraordinary Chambers (CAE) !

Welcome to this space for dialogue between the first Inter-African Criminal Court based in Dakar – the Extraordinary African Chambers (CAE) – the Chadian and Senegalese people, and all interested audiences. The Consortium in charge of Outreach (Primum Africa Consulting, Magi Communications, RCN Justice & Démocratie) invites you to participate today in an interactive online forum.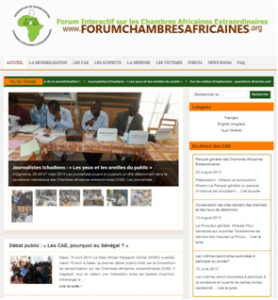 This consortium was chosen to bring information on the proceedings following the agreement between the African Union and Senegal to prosecute "those primarily responsible for international crimes committed in Chad between 1982 and 1990" to the attention of people in Senegal, Chad, Africa and throughout the world.
Since the beginning of 2014, an outreach campaign has made it easier for people in Chad and Senegal to access information through meetings, public debates and information workshops taking place in the capital and in the provinces. These events involve the general public, CAE members, administrative and judicial authorities of Chad and Senegal, lawyers, victims, researchers, the media and civil society. The campaign also aims to encourage debate around the contribution of the CAE in the framework of international criminal justice. Dialogue and an opportunity to express concerns are at the forefront of activities in the field, which are led by three organizations that form the Consortium and are well known in the areas of human rights and communication.
In addition to the official court communication, outreach activities developed by international courts have played a key role – particularly in Sierra Leone and Cambodia – in bringing justice to the people concerned.
The interactive online forum has been created to facilitate this link. It offers:
Detailed information on the CAE and the different parties to the proceedings;
Articles, photos and videos which enable people to follow the campaign activities;
A "news room" which makes it possible for journalists from Chad and Senegal to exchange information;
Three forums which enable civil society organisations, researchers and the general public to hold discussions.
To keep informed, sign up now to our mailing list!
The online interactive forum on the Extraordinary African Chambers is opening in French today and will soon be available in Arabic and English.
The Consortium in charge of the outreach
Primum Africa Consulting
Mermoz Extension, Lot 12, N°5
BP 45680 Dakar Fann (Sénégal)
Tel: +221 827 52 54 – Fax: +221 33 827 52 55
Email: contact@primumafrica.com 
Website: www.primumafrica.com
RCN Justice & Démocratie ASBL
Boulevard A. Max 13-17,  1000 Bruxelles (Belgique)
Tél: +32.2. 347 02 70 – Fax: +32.2. 347 77 99
Email : info@rcn-ong.be
Website : www.rcn-ong.be
Cabinet MAGI Communications
BP 4543 – N'Djaména (Tchad)
Tél: +235 52 52 30/ 29 34 18/ 27 17 63
Email : maogilmagil@gmail.com